Welcome to DOLLBELGE
Handmade organic Waldorf dolls and creations
Hello, my name is Viktoriya, mother of two, with years of experience in Waldorf dollmaking.
I am passionate about knitting, stitching and creating beautiful, authentic and durable Waldorf dolls, toys and other creative Waldorf interior decorations, which also have a high personal playing content for the one who makes it or the one it is given to.
All my creations are accompanied by a personally signed and numbered Certificate of Authenticity.
I also organize on demand one-to-one workshops with different purposes for interested people who want to grow or to live in the moment and create something out of the ordinary with sustainable, lasting and durable effect.
Fun to make, fun to give, fun to watch and to play. Simply heartwarming. Enjoy my creations!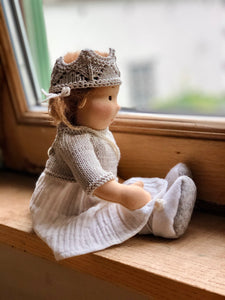 You just feel and sense that Viktoriya is passionate about her creations. Her dolls are beautiful, unique, have character and a soul.

Patrick
Every enthousiast of Waldorf should try to get into one of Viktoriya's workshops, its just amazing.

A participant