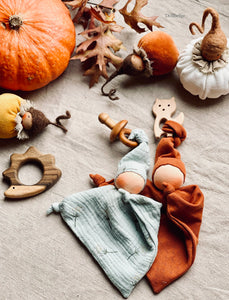 A very first Waldorf doll for Newborns. Safety first. No eyes, no mouth, no hair, no loose ends - only warmth of bio wool and softness of organic cotton. It has a very long cap so that you can easily attach the pacifier or teething toy to it. The wooden birch teething toy is included. Very durable. Hand wash with soft soap.
It is recommended to order 2 of the same in case one needs to be washed or gets lost, etc.
Handmade from
blue
Double gauze cotton.